CNC

Cutting,
Laser

Cutting and

3D

Printing Services
Have an idea?
We can design, manufacture and deliver your idea.
Vector Files
Send us your vector file and we can get to work with our cnc services.
Drawings
Have your ideas sketched on paper, we can turn these into a finished project.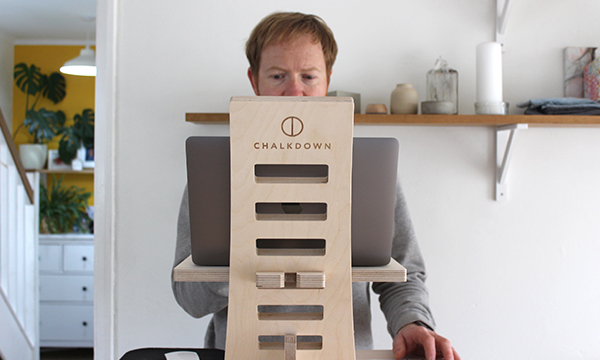 CHALKDOWN
Bespoke furniture made by Masters CNC. Products include stand up desks, iPad easels and monitor stands.
CNC 

Router Cutting,
Laser

Cutting and

3D

Printing services in Kent, South East and UK
MastersCNC provides precision cutting services to architects, designers, artists, engineers and housebuilders to name a few. From single prototypes to runs of thousands, whether it's a simple wood cutting service or the whole package of design, cnc cutting and fabrication, MastersCNC can partner with you to achieve your goals.
CNC Routing at Masters
We currently run two high speed CNC Routers, with the ability to cut to a 0.2mm tolerance. MastersCNC has the capacity to run both Routers 24/7, consequently we are able to accommodate even the largest, time critical task. It's not just a cutting service, our machines drill precision through holes or pilot holes as well as engraving in wood, acrylic, Perspex etc.
Our CNC Routers
AXYZ CNC Router4010 ATC | 10ft x 5ft equivalent 3050mm x 1525mm
TEKCEL V Series CNC Router| 8ft x 4ft equivalent 2440mm x 1220mm
3D Printing service
State of the Art FFF and FDM 3d printers currently up to 250 x 210 x 210mm in PLA, PETG and ABS plastics.
CNC Cutting
Our CNC cutting machine's most obvious characteristic is that it cuts through direct physical contact. However, unlike countless other cutting tools at your disposal, our CNC machines are automated and they follow a programmed path through computer numerical control.

Laser Cutting
Perfect for standout engraving and creates stunning edges on acrylic and Perspex.
CNC Manufacturing
We manufacture indoor and outdoor furniture for large retailers across the UK. We manufacture for new home builders and commercial displays.
The CNC Team at Masters
MastersCNC has decades of experience to call upon within the team. We have designers, CNC operators, fabricators and project managers, all of whom ensure that every step of your project is dealt with by experts. We'd love to hear from you so please give us a call, send an email or why not visit us at our manufacturing facility in Sevenoaks, Kent.
Build at Masters
Our partnership doesn't have to end with our wood cutting service. We have carpenters, joiners and even welders, so if you need something building or fabricating, we can see your project through to the end.
More than just a physical attraction
We may have oodles of experience but not everyone does. We are happy to provide advice and assistance on any number of things, including helping you decide the perfect material for the job as well as source it from one of our handpicked suppliers. Do take a look at our material page.